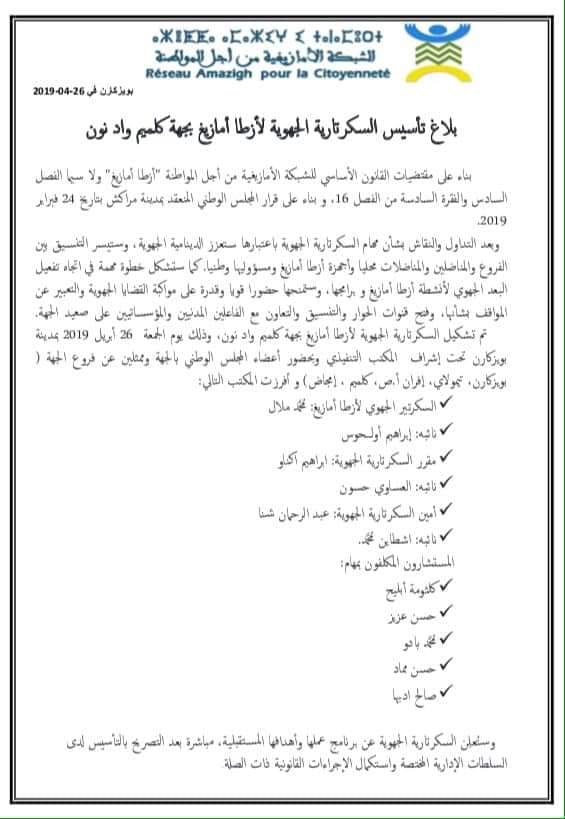 Communication for the creation of the Aztaga Regional Secretariat for Kalmim and Wade Noon
Based on the requirements of the Basic Law of the Amazigh Network for Citizenship (Azta Amazigh) in particular chapter 6 and paragraph 6 of Chapter 16, and on the basis of the decision of the National Council held in Marrakech on February 24, 2019.
After deliberation and discussion on the functions of the regional secretariat as it will strengthen regional dynamism, it will facilitate coordination between branches, activists, local activists, Azta's Amazigh bodies and their leaders. National. It will also be an important step towards activating the regional dimension of Aztag's activities and programmes, and will give it a strong presence and ability to follow regional issues and express positions on them, and to open channels of dialogue, coordination and cooperation with civil and institutional actors at the regional level.
The Regional Secretariat of the Aztec Amazigh was formed on Friday, April 26, 2019 in Boisekarn, under the supervision of the Executive Board and in the presence of members of the National Council of the Authority and representatives of the branches of the authority (Boisekarn, Timmoulay , Efran A.S., Kalmim, Imjad) and the following office:
Azta Amazigh Regional Secretary: Mohamed Mallal
Assistant: Ibrahim Olhos
Regional Secretariat Rapporteur: Ibrahim Akanao
Deputy: Al-Asawi Hassoun
Regional Secretary: Abderrahmane Shanina
Deputy: Ashatin Mohammed.
Advisors assigned to:
Kalthouma Abeih
Hassan Aziz
Mohamed Badou
Hassan Mas'ad
Salih Adbea
The regional secretariat will announce its work programme and future objectives, immediately after the establishment's declaration to the relevant administrative authorities and the completion of the relevant judicial proceedings.
The founding of the Regional Secretariat of Azetta in the area of Guelmim and Oued Noon.